Replacing your windows can be a daunting task, made all the more difficult by the wide variety of options on the market. Not everyone is a window expert, and many of us find it a scary proposition spending our hard-earned money on something we have little to no knowledge about.
With this in mind, our first piece of advice is to do some homework. With the worldwide web more worldly and wide than ever, there is a wealth of information out there just waiting to be digested. Research does take some time, but by putting in the groundwork and educating yourself about your options, you can sleep sound knowing you made the right decision in the end. The fact you're reading this tells us you're already heading in the right direction!
Below, we'll take a look at the reasons you might need to replace your windows and the benefits of doing so, followed by some of the most important considerations you'll be undertaking.


Why do I need replacement windows?
There are many reasons people replace their windows, for some windows are functional, for some even fashionable, whatever your motivation, here's a few common reasons that prompt people to replace windows in their home:
You can feel a draught coming from your windows, allowing cold air into the room.
Your room becomes unbearable from overheating when it's warm.
You can hear external noise such as traffic, causing frustration and sleep loss.
Your existing wooden frames are rotting, damp and discoloured.
You're experiencing condensation on your windows.
Your windows are becoming difficult to open, close or lock.
Your energy bills are increasingly high as you struggle to keep your room warm.
You want to modernise the look of your home or return its original period features.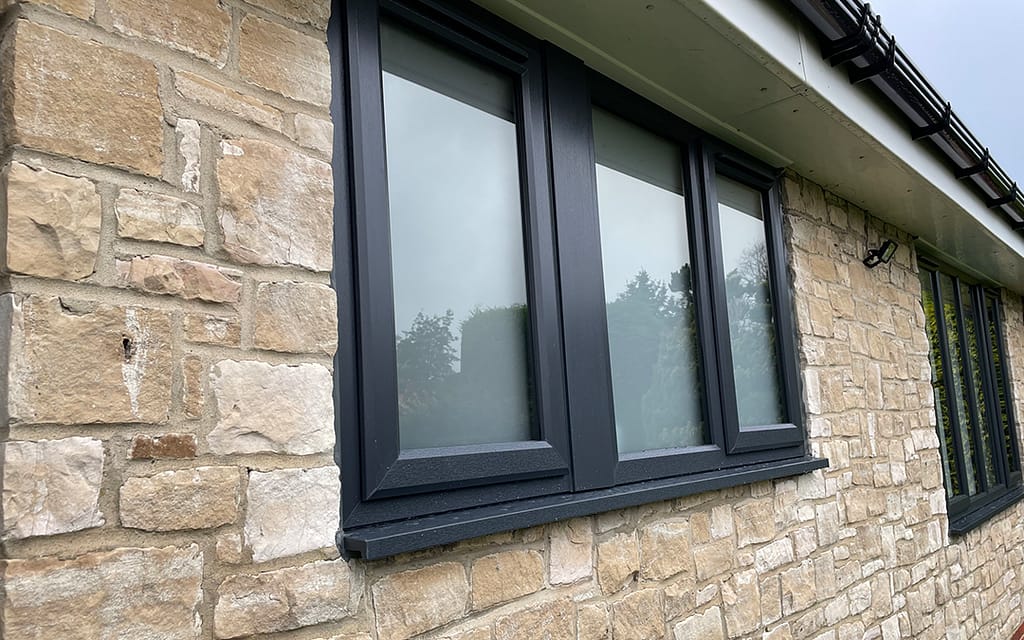 What are the benefits of replacing my windows?

Improved Energy Efficiency
Windows are a notorious culprit of energy loss from the home, giving you no other choice but to turn up your thermostat. By replacing your windows, you can increase the energy efficiency of your home, whilst also reducing your energy bills.
This saving is entirely dependent on the energy rating of the windows you choose and the type of home you have. Windows are rated in terms of their ability to retain thermal energy(heat) in your home, preventing it from escaping. This measurement is called a u-value and windows have to meet minimum u-value to adhere to building regulations.
By replacing your existing windows with more energy-efficient ones, you're not only reducing your energy bills, but you're also reducing your carbon footprint and giving the planet some much needed TLC.


Increased Security
It's unsurprising that security is paramount for most of us when choosing windows, wanting to keep our loved ones, possessions and homes safe. Historically, single glazed windows were exceptionally easy to break and gain entry to a property, but with the advent of double glazing, things instantly became trickier for burglars.
Since the first double glazed windows hit the market, manufacturers have continued to develop innovative solutions and technology to ensure today's windows are incredibly secure.
Handle locking systems, force resistant glass, multi-point locks, shoot bolt window locks and internal beading are just some of the ways you can ensure your windows are super-secure. It's worth looking out for these kinds of features when considering window security.


Noise Reduction
We've all been there, trying to sleep in on a Sunday and a neighbour decides to get the lawnmower out. Some of us might even live near busy roads or under flight paths. Noise is a nuisance and there is a reason we've all heard the term noise pollution!
Replacing old low-performance windows with higher-performing windows can significantly reduce the amount of noise entering your home. Depending on your choice of window, this could be as big as a 90% reduction. When external noise is affecting your sleep, it's time to seriously think about sound-proofing your home, with new windows a big part of this.
Sleep is incredibly important, and many of us probably don't put enough emphasis on it. Sleep is when our bodies rest and recover, and a lack of it can impair the way we function during the day and have both physical and mental health implications. New windows can go some way to alleviating a poor sleep pattern due to external noise, allowing you to sleep more soundly.
A sound-proofed house is also a big selling point when the time comes to sell. Prospective buyers can be easily put off even looking at a property if it's close to the main road or another source of noise, and be even more put off when they view the property and listen for themselves. Reducing external noise in your home can become a good investment when it's time to sell.


Improve The Look Of Your Home
Another huge benefit of replacing your windows is improving the look of your property. When purchasing a new home, you inherit windows picked by the previous owner. Not only could their taste be very different to yours, but the windows themselves may not suit the property at all.
As an example, period properties are often fitted with modern windows not suited to the look of the building or its brickwork. By replacing these with the style of window the property would have originally had, you can massively improve the look of your home.
Improving the look of your home through new windows not only makes it more attractive to you, but also to potential buyers when the time comes to sell. New windows which fit the look of your home create massive curb appeal for potential buyers and could even increase the value of your home, ensuring you sell quickly and for the full asking price!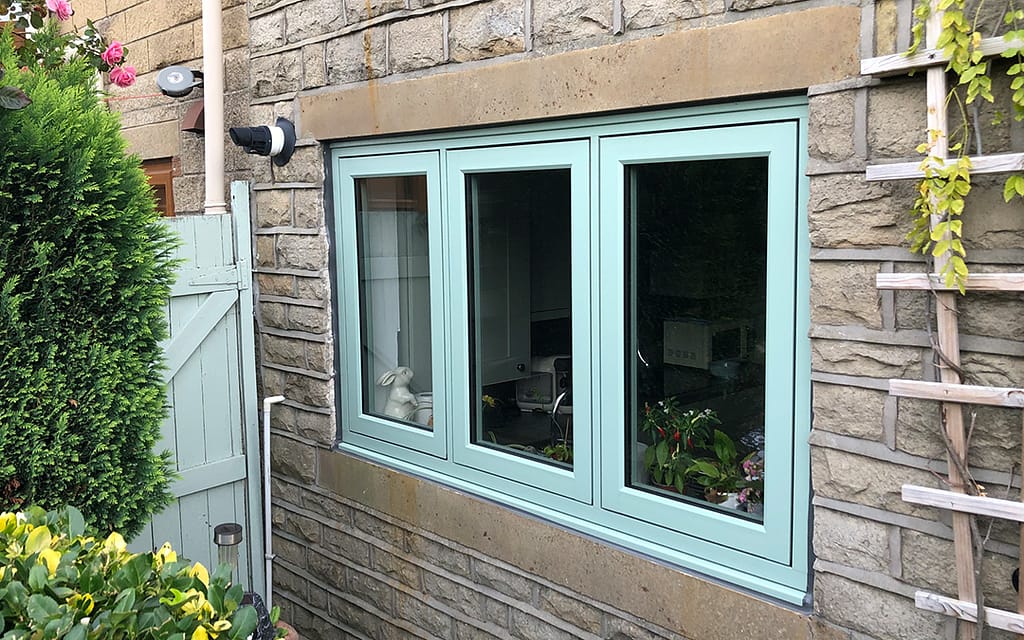 The Main Things to Consider When Replacing Windows?


Glazing
Your glazing choice is probably the most important thing to consider when replacing windows. Double glazing is undoubtedly the most popular choice, due in large part to its cost to benefit ratio. Here at Eco Thermal Design, we offer three distinct types of PLANITHERM® glazing.

Energy Standard windows have a crystal clear, microscopic coating on the inner pane of glass which is designed to make use of the warmth of natural daylight. The coating allows more natural heat to enter your home, whilst also stopping 56% more heat loss than older-style double glazed windows. Energy standard windows are a good choice for those who simply want to improve their home's energy efficiency.
For those concerned about security, Comfort glass would make a better option. Comfort glass features a built-in transparent layer which makes it harder to break than Energy Standard glass, and also provides 20% better noise reduction than older double glazing. Comfort glass still has all the features of Energy Standard glass, making it both energy efficient and more secure.
Comfort Plus glass is the perfect choice for those of us who want our windows to work on every level! Comfort Plus glass has a coating which blocks out 50% of the sun's heat, whilst also keeping in 63% more internal heat. This means your home will stay cooler in summer and warmer in winter. It also makes an ideal choice for south facing windows which receive a lot of sunlight. It's also a good choice for larger windows which can cause your home to easily overheat in summer.
As with Comfort glass, Comfort Plus windows are harder to break and offer better noise reduction, making them the perfect choice for those of us who want added security, noise reduction, energy efficiency and avoidance of overheating. Comfort Plus windows definitely tick all the boxes.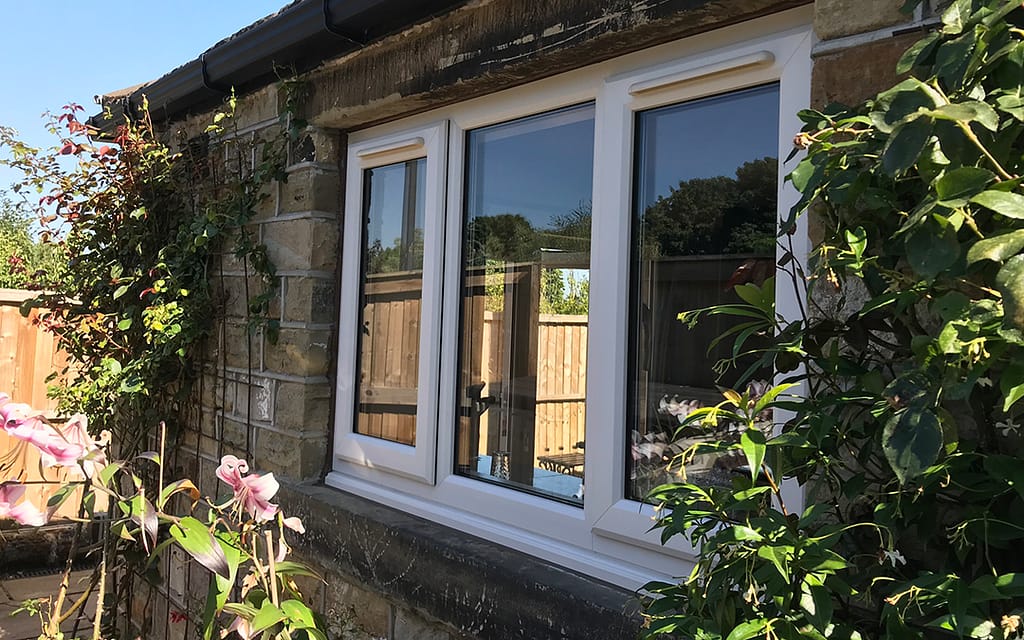 Window Frame Materials

uPVC Window Frames – The most common window frame material is uPVC which stands for unplasticised polyvinyl chloride. It's a robust yet lightweight plastic that is not softened during the manufacturing process, allowing it to keep its strength.
uPVC has strong heat insulation abilities, is highly secure and long-lasting, and also requires minimal maintenance. These traits and their cost compared with wooden or aluminium frames make it extremely popular. Although some deem uPVC windows as aesthetically unpleasing, with the variety of styles, colours and finishes available today it's hard not to make uPVC windows look great on any style of home.
Timber Window Frames – Another option for window frames is wood, which offers a beautiful traditional look, especially for period properties. It also has good thermal efficiency, however maintenance is somewhat harder than uPVC windows. Timber is an organic material and as such, will decay as it faces the elements.
The final choice for window frames is aluminium. Aluminium window frames have become popular in recent years due to their versatility. Aluminium is not only extremely strong, it's also extremely flexible during manufacturing meaning it has become a popular choice for homeowners with unusually shaped windows.
Aluminium Window Frames – Aluminium window frames require minimal upkeep, last a long time but are not easily or cheaply as thermally efficient as wooden or uPVC window frames. Aluminium is a conductive material, and as such it will conduct heat. Probably the biggest selling point when it comes to aluminium window frames is their appearance. Due to their strength, beautifully slim window frames can be created from aluminium, allowing homeowners to achieve a sleek contemporary look but at a premium price.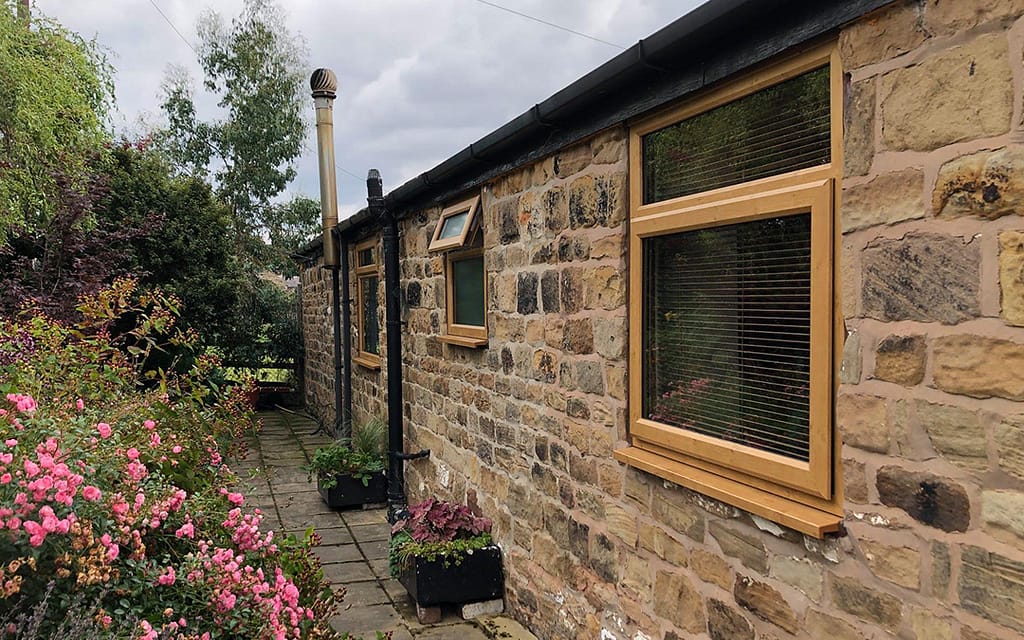 Window Styles


Casement Windows – Casement windows are the most commonly used on UK homes, with the doors opening outwards and a wide variety of options in terms of finish, including the colour of the frames, the glazing and the fittings such as handles.
Casement windows are available in both chamfered and ovolo frames. Chamfered frame offer a straighter cleaner finish whilst ovolo frames offer a more sculpted finish. Casement windows can be hung from the side, top or bottom and can be internally or externally beaded. They are easy to clean, made to measure and have served a multitude of homeowners well for many years.
Flush Sash Windows – Another option which particularly suits period properties is flush sash casement windows. Flush sash casement windows feature sashes which finish flush to the frame of the window, creating a beautiful smooth finish. Also low maintenance and equipped with multipoint locks as standard, flush sash casement windows are a great option for period properties, but also for those just wanting a classic touch.
Sliding Sash Windows – When it comes to stunning window design, sliding sash windows are a true showstopper. Unlike casement windows, sliding sash windows open by pushing the sash upwards, creating a much broader opening than can be achieved with casement windows. This window design has been around since the 17th Century and suits Victorian and Georgian properties, however is becoming increasingly common on a wide range of properties due to its classic and attractive look.
Our sliding sash window frames are available in a wide range of finishes, including wooden finishes which will enhance the look of your property, and which are also regularly approved within conservation areas. This classic window design crafted using modern materials and techniques creates a classic look without compromising performance.
Tilt and Turn Windows – Also crafted from UPVc in a wide range of finishes, tilt and turn windows open by tilting the window frame inwards. One of the biggest benefits to this is safety, especially if you have children and live high up. Tilt and turn windows are also extremely low maintenance, as you can simply tilt the window inwards all the way, and clean the external pane of the window with ease.
Tilt and turn windows have extremely low u-values and are a great option to improve ventilation due to their design which channels air into the room.


Window Colour

Although window colour doesn't affect the thermal efficiency and lifespan of your windows, it does have a huge effect on the appearance of your home. In the past, the choice of colours when it came to buying windows was minimal, but today the options are almost endless.

In recent years, popularity has waned for white window frames, however they are still a staple choice for many. Grey window frames have become particularly popular, with anthracite being the most popular choice for grey window frames.

The reason anthracite window frames have become so popular is undoubtedly due to their modern and sleek appearance. They don't just suit modern properties however. Anthracite window frames placed in period properties have become quite on-trend, complimenting the original features and brickwork of the property whilst giving it a modern twist.
Think carefully about your window frame colour, it really does make or break the look of your property and although some colour options can cost slightly more it's an investment that pays off through curb appeal.


Your Window Supplier & Fitter
Picking the type and style of windows for your home is important, but it's equally important to pick fitters who will deliver your windows professionally, with no complications or unexpected surprises.
It's important your contractor completes the work in a timely fashion, especially during periods of bad weather when you don't want your home exposed to the elements with missing windows! You also don't want a contractor who does the job and goes, leaving behind excessive building mess and materials.
The key to finding a good contractor is to read the reviews. People have gone there before you and their opinions should be an important part of your decision. Once you have the right windows and the right supplier, you can schedule the work to transform your home with some new windows!


Why choose Eco Thermal Design for your new windows?
Eco Thermal Design has transformed countless homes across Yorkshire and we are experts when it comes to windows and can help you find the right windows for you. Our expert sales people can help you decide on the right window for your home, and our team of fitters can complete their work to the highest standards, causing you minimal disruption along the way. We're proud of the quality of our products, work and people, which is echoed by our customers in our Which Trusted Trader reviews.
If you would like to speak to one of our window experts or get a quote, you can contact us here or give us a call on 01226 764841.