Adding conservatories to our homes has been a long running British tradition, creating extra space and creating a transition between home and garden. Although the popularity of conservatories has seen a decline in favour of more energy-efficient alternatives, they're still a great way to add additional space whilst also potentially adding value to your home.

Below we'll try to answer some of the big questions surrounding adding a conservatory to your home, along with top tips to consider and potential alternatives that could provide even more benefits. So the burning question at hand…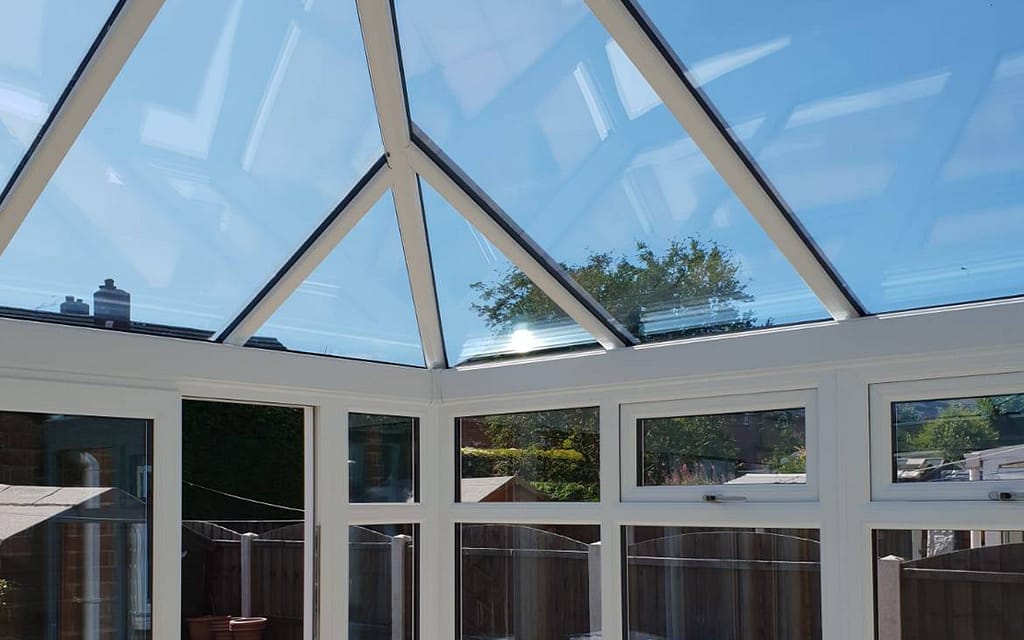 Will adding a conservatory increase the value of my home?
In most cases, adding a conservatory to your home will increase the value of your home. By increasing the physical footprint of your house and improving its appearance you should add value, and the extra space created should be a selling point to potential buyers. But in order to add value, you need to consider a few things!

Check If You Need Planning Permission
Conservatories generally don't need planning permission because they don't require building regulation certification. This also means they don't officially class as an extra room in your home. This is why you can't install radiators hooked up to your home's central heating, and you can't remove the doors between your home and conservatory to create an open plan space. Despite this, conservatories still offer good extra space in your home.

It's important to check if you need planning permission though. Although most don't, some might, especially if you own a period property or live in a conservation area. It's better to check in advance and avoid financial consequences than to rectify problems after your conservatory has been built.


Invest in a Quality Conservatory and Installer

Although adding a conservatory should add value to your home, it may not pay for itself if you add a poor quality conservatory installed by a poor quality installation company. Do your homework and make sure you choose a conservatory made of quality products, with the relevant safety certifications and guarantees..

When it comes to choosing a company to build your conservatory, ensure you choose an installer who has been accredited by a Government authorised Certification body like CERTASS. Also ensure your new conservatory comes with an insurance backed guarantee on the product and the work, and always read reviews from previous customers.


Be Realistic About The Size Of The Conservatory
Although it might be tempting to choose a larger conservatory than you need to maximise on space, this could be at the sacrifice of space in your garden which would likely detract from the value of your home! This is especially important if you have a smaller garden. Measure out the boundaries of your new conservatory in your garden before you commit to buying it, and be realistic about how much space will be left in your garden.

It may seem enough but don't forget that the height of your conservatory may also make a smaller garden feel more closed in.


Consider The Look of Your Existing Property
Your conservatory should match the existing look of your property. If it looks plonked and out of place it likely won't add the value you intended it to. If you have a period property you might choose a more traditional style whereas a more modern property might suit something more contemporary. Frame colour is also an important consideration. The main conservatory styles and shapes are;
Edwardian Conservatory.
Edwardian Gable Conservatory.
Victorian Conservatory.
Lean-to Conservatory.
P-Shaped Conservatory.
U-Shaped Conservatory.
L-Shaped Conservatory.
T-Shaped Conservatory.
Get online and research how these styles look on various styles of properties and get yours right.


Keep Your Conservatory Well Maintained
Keeping your conservatory in shipshape condition is vital if it's to add value when you decide to sell your home. We have all seen the odd neglected conservatory or two in our time and it's not a pretty sight. When left to deteriorate, conservatory roofs can become dirty with a buildup of green slime so some semi-regular housekeeping will be required.

Keep the roof clean, wipe down the windows and frames and you should be able to avoid this. Also, tiled or laminate floors are far easier to maintain than carpet, so that would also be a very prudent option for flooring.


Consider The Aspect of Your Conservatory
Conservatories can be too hot to use in Summer and too cold to use in Winter due to the amount of glazing and their lack of thermal efficiency. If your garden is South-facing and receives lots of sunshine, you may find your conservatory unusable in the hottest months. Alternatively, if your garden is North or East-facing, it may be cold during the Winter and contribute to heat loss from your home.

If you have options for the placement of your conservatory, this needs consideration. Another consideration is choosing a conservatory with an energy-efficient tiled roof rather than a traditional polycarbonate or glass roof. This will keep your conservatory at a comfortable temperature all year round.


Think About Energy Efficiency
Conservatories are not designed to be all year round functional spaces, they are made to be enjoyed. Although all new conservatories will be double glazed, they won't be as energy efficient as your actual home meaning there will be times in the year when they are too hot or cold to use. If you want to create an all year round space that truly creates an additional room in your home whilst maintaining the charm a conservatory offers, there is another great option.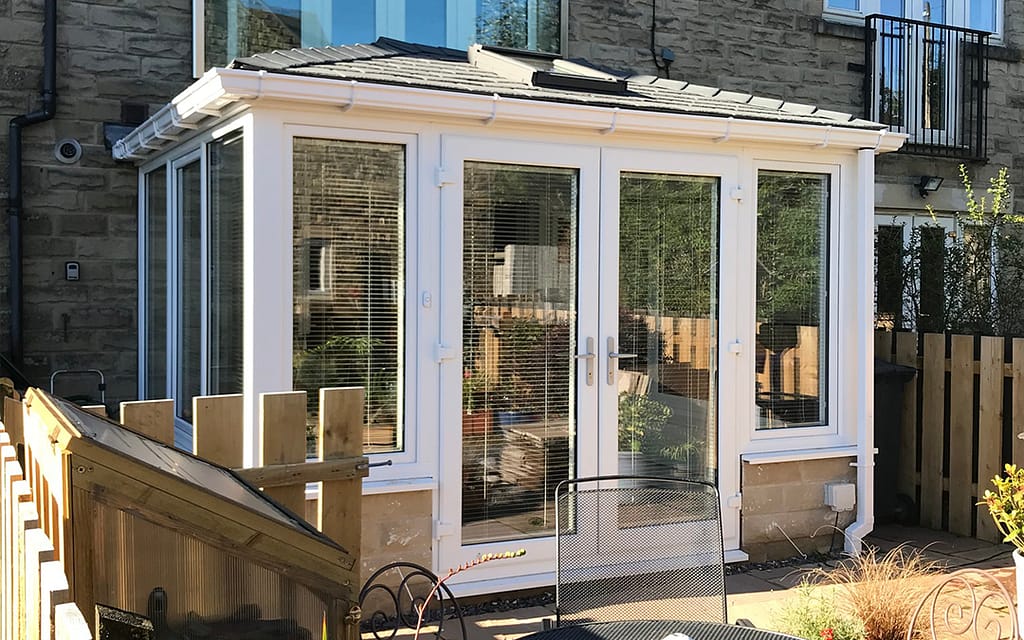 Alternatives to Adding a Conservatory
We've established there are a range of considerations when adding a conservatory to your home, all contributing to how much value that addition might have. There is however an alternative that will cost a little more, but add more value both financially and in general use.


Tiled Conservatories
Tiled conservatory roofs have become all the rage in recent years, with people choosing to have their new conservatory built with a tiled roof, or with people replacing an existing polycarbonate or glass conservatory roof with a tiled one.

It's important however to choose the right tiled roof from the right company. The roof you choose should be building regulations certified which means it achieves the minimum U-values (a measurement of thermal efficiency) to legally certify your conservatory as an additional room in your home. As the popularity of tiled roofs has increased, more and more inferior and quite frankly unsafe roofs have appeared in the market so it's essential to do your homework.

Legitimate conservatory tiled roof systems like the Icotherm Tiled Roof have a huge host of benefits including;
Cool in Summer and warm in Winter.
They look aesthetically pleasing with tiles to match your home.
Better integration into your overall living space.
You can change the whole look of your conservatory.
Central heating can be connected to your new room.
Doorways from the main property can be removed for open plan living.
Easy to maintain and no more cleaning green slimy roofs.
Resistant to hail-stone or snow damage compared with glass or polycarbonate..
No more deafening rain, wind noise or rattling panels.
Stronger and safer than traditional conservatory roofs.
More secure against intruders than polycarbonate roofs.
Can be installed in a matter of a few days.
Cheaper and far less disruptive than a larger extension project.
Building Regulations Certified.
Increase the value of your home.

There is no doubt that adding a quality and certified tiled roof to a conservatory adds value to your home along with a huge range of benefits. You can read more about these in our blog post The Benefits of a Replacement Tiled Conservatory Roof.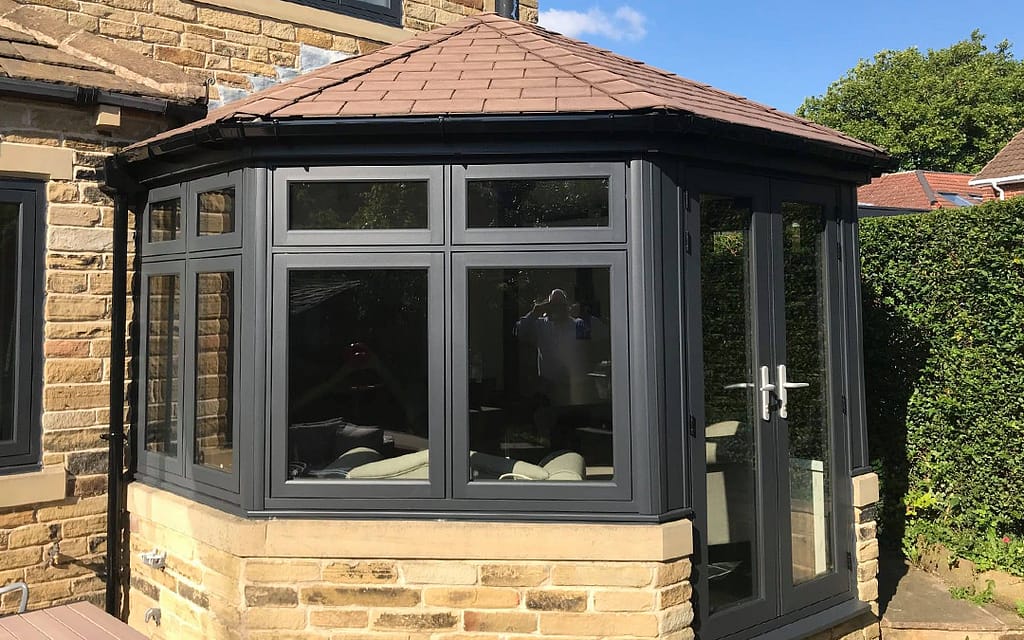 Why choose Eco Thermal Design for your conservatory or tiled roof installation?
Eco Thermal Design has transformed countless homes across South Yorkshire with quality conservatories and Icotherm tiled conservatory roofs. We pride ourselves on the quality of our tradespeople, who are not only talented, but exceptionally friendly and polite.

Our Which Trusted Trader reviews are testament to the quality of both our work and our people. We also guarantee our work with an insurance-backed guarantee and are Certass certified installers.If you're considering replacing your existing door with a composite door and would like to discuss your options, feel free to get in touch here to speak with an expert member of our team.


What Our Customers Say
"Quality products are only as good as the team that fit them and in our case both the product and the fitters resulted in a first class and professional installation. Respectful of our home and tidied up at the end of each day….Thank You"
Les Finucane
"Excellent service from Eco Thermal again. Would recommend to anyone. Also good to have a local firm that you can trust."
Ross Duguid
"The product and installation was 1st class and completed on time by very friendly and tidy chaps with a minimum of disruption. Customer satisfaction is a priority with this company and they are prepared to go the extra mile to meet it. I can't speak highly enough about all the people I came into contact with, all completely genuine, a rare commodity. one hundred percent recommended."
Sue from South Yorkshire
You can also read our reviews on Which Trusted Trader where we are rated five stars.