Conservatories have long been a go to for home owners wanting to add additional space, without the need for costly and time-consuming building projects, such as extensions. Enjoyed predominantly during the summer months, conservatories have been a great way to join your outdoor and indoor spaces.
Traditionally, conservatory roofs were constructed using polycarbonate materials and sometimes glass. Recently however, tiled conservatory roofs have become popular for a number of key reasons. Polycarbonate and glass roofs are increasingly falling out of favour with more and more homeowners choosing to add something that performs much better regardless of the weather which as we know, in Yorkshire, can be unpredictable and sometimes extreme in all directions.
Below, we'll take a look at the benefits of replacing your existing conservatory roof with an Icotherm tiled conservatory roof from Eco Thermal Design.


Top 5 Benefits of a Tiled Conservatory Roof

Improve Thermal Efficiency and Reduces Energy Bills
Conservatories are notorious for overheating in summer, whilst also being too cold in winter. This makes their all-year-round use often fairly limited. Polycarbonate and non-modern energy-efficient glass options offer very little by way of insulation. This can cause your conservatory to warm up or cool down dramatically based on the weather. This is where a tiled roof could revolutionise the way you use your conservatory.
Icotherm tiled conservatory roofs from Eco Thermal Design have at their core, a strong yet lightweight, long-lasting premium C24 timber frame insulated with 155mm EPS 0.15 U-Value insulation. The roof system also features clever ventilation which prevents any risk of condensation and stops the build-up of damp within the roof.
The Icotherm conservatory roof system is actually far more thermally efficient than your home's own roof, not only keeping your conservatory cool in summer and warm in winter, also reducing your heating or cooling bills too while improving your home's carbon footprint.
Not only does this give you an additional living space that can be used 365 days a year, it can also help you reduce your energy bills. Reliance on electric heaters to warm your conservatory in winter can be costly, and poorly insulated glass or polycarbonate roofs simply allow heat to exit your home. Replacing your existing conservatory roof with a tiled conservatory roof creates an energy efficient, usable space that can be enjoyed at any time.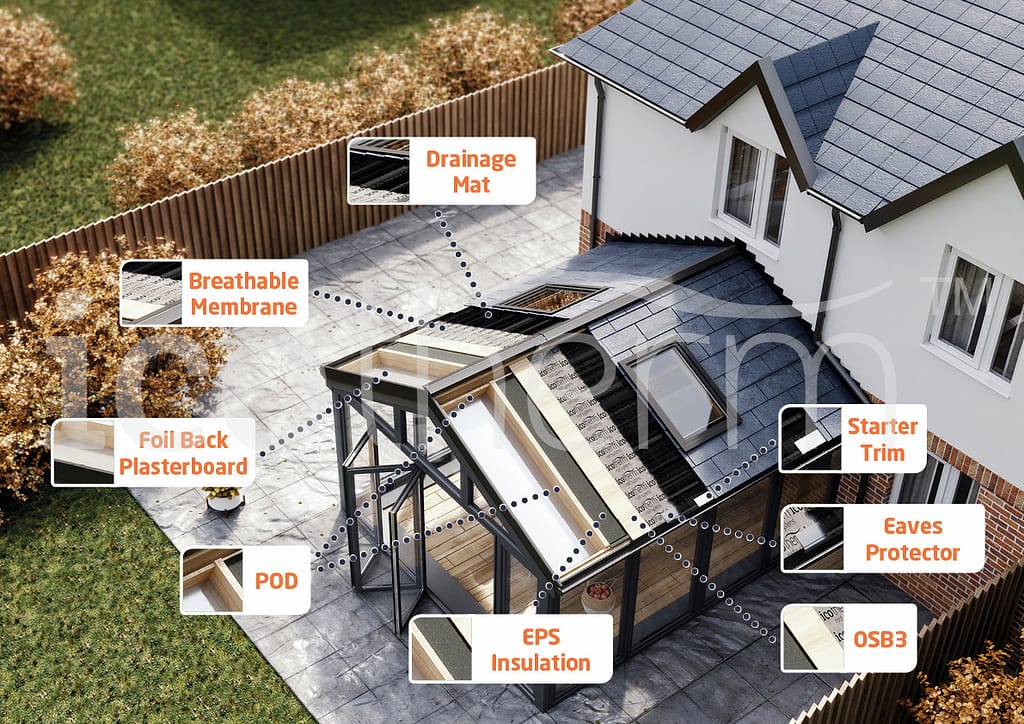 Create an Extra Room with Building Regulations Approval
Traditional conservatories did not require any building regulations approval and are not classed as a room in your home. This means that certain energy-efficiency U-values were not calculated or met. As such, you are not permitted to remove the internal doors to the house – not that you would want to, traditional polycarbonate roofs aren't very secure. You're also not allowed to install radiators that are connected to the home's central heating system.
The U-value of a room, simply put, relates to its ability and efficiency to be able to insulate the inside space from the outside space. This is governed in the UK by Building Regulations Control.
If you can improve the U-value to the point where it becomes equivalent to, or better than any other room in the home and all other safety and ventilation rules are met, then it's possible to achieve a Building Regulations Certification. You can then choose whether to include the room as a room in your home or extend your living space by removing previously external doors, and you can extend your heating system into the new space.
Icotherm tiled conservatory roofs installed by Eco Thermal Design meet the requirements of Building Regulations guidelines and hold an approval certificate. This means that our roofs, alongside other options and products such as replacement window frames and doors and high-efficiency glass where needed, can be used to meet overall Building Regulation requirements.
It's important to note that not all roof systems or installations provide this benefit and any such certification is subject to Building Regulations application and approval. Eco Thermal Design can take care of the whole process for you; from application, installation, energy calculations and certifications meaning you can relax and know your installation is legal and approved.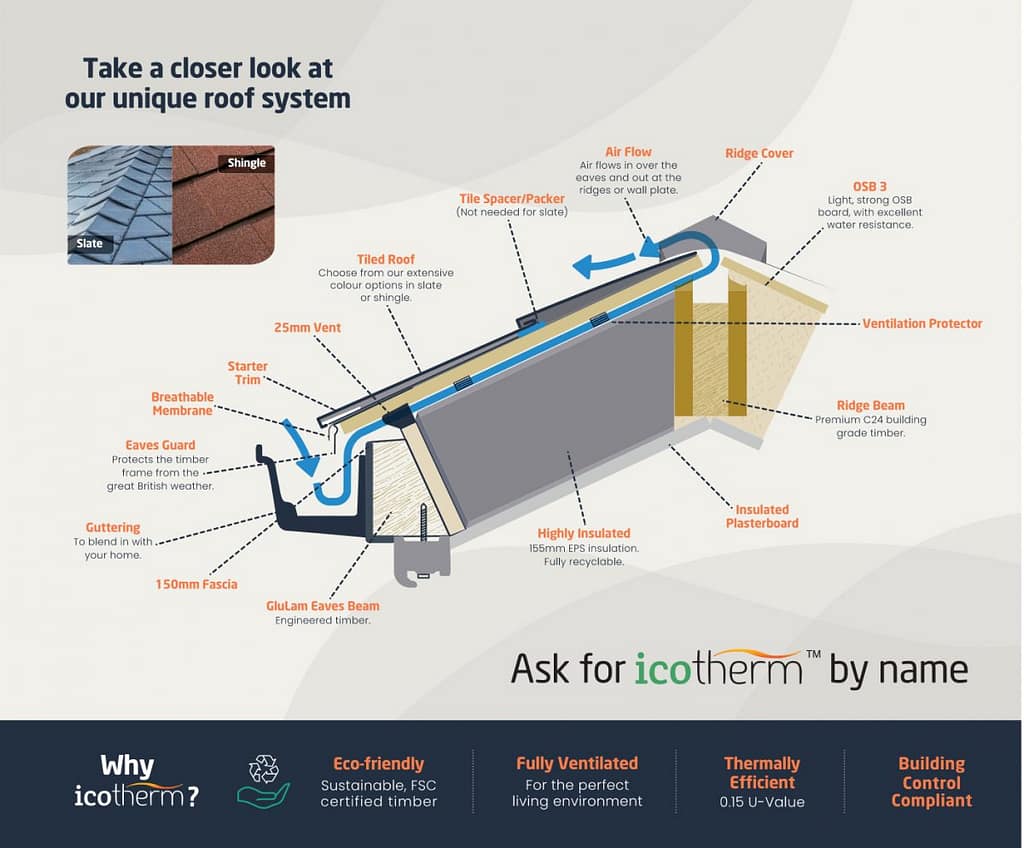 A Tiled Conservatory Roof Adds Value to Your Home
As well as improving the look of your home, you'll also be increasing its value. Having an additional room which can be used all year round is a huge selling point, increasing your properties value and potentially reducing the time it takes to sell.
When you replace a failing or old conservatory roof with a new tiled roof from Eco Thermal Design you add value to your home for a number of reasons. First, homeowners see solid roofed conservatories as "proper" rooms or spaces that they can use all year round. Secondly, if your new space attracts Building Regulations approval, then your home's footprint increases – "add rooms, add value" comes to mind.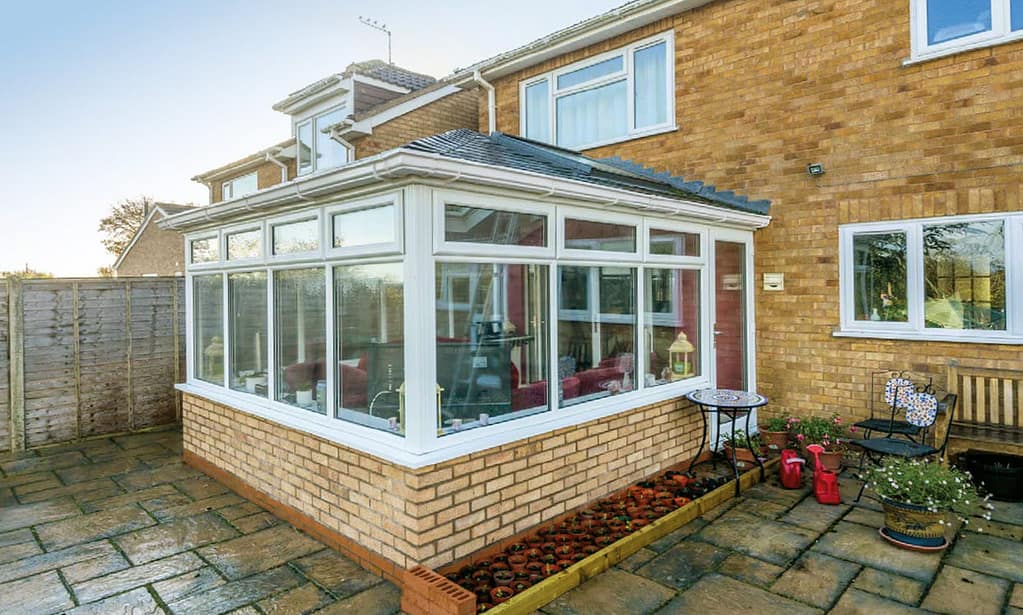 A Tiled Conservatory Roof Improves the Look of Your Home
By adding a tiled conservatory roof, you instantly improve the look of your house, with the conservatory appearing more like a single-story extension and living-space than a traditional conservatory did. The Icotherm tiled roof comes in a wide variety of colours and finishes, allowing you to match your new conservatory roof tiles closely to your existing house tiles. This makes the new "room" look and feel more a part of your home.
If your conservatory frames and doors are looking tired, old-fashioned, or they just no longer match your home or style, it's the perfect time for an update. Many of us inherit conservatories when we buy a new home, and often the conservatory won't be to our exact taste or they will be green with algae, dirty or broken. By adding a tiled roof at the same time as replacing the existing frames, glass and doors, you can create a look more in keeping with your personal taste and at less cost than rebuilding the entire conservatory.
Improving the look of your conservatory with a tiled roof doesn't just apply to outside appearance. Internally, the conservatory is far more attractive too with its smooth plastered ceiling, and the ability to add additional design features such as roof windows and lighting, features that a traditional conservatory simply couldn't accommodate.
You might even find that a tiled conservatory roof can improve the look and prolong the life of the items inside your conservatory. Direct sunlight is notorious for discolouring furniture, carpet and soft furnishings over time but with a tiled conservatory roof this problem goes away! You'll also be able to watch TV there now too without the glare.


A Tiled Conservatory Roof is Quick and Efficient to Install
Adding an Icotherm tiled conservatory roof usually takes just a few days, with an additional day for plastering. Your new tiled conservatory roof is mostly manufactured off-site meaning installation time at your home is reduced.
We fully survey your existing conservatory to make sure we identify any issues and requirements at the outset. Our surveyors are time-served specialists and can identify and help navigate around all kinds of challenges before they become problems or hold up your project.
Once they are happy the design and measurements are workable, the order goes to the factory where the design for your new roof is created. The designs are then sent to the production-line where your roof is individually machined and constructed. Insulation is added along with all of the various ancillary items and your roof is test-built.
All of this happens BEFORE the parts are then delivered to your home, where they are expertly constructed by our team of friendly fitters. The entire process takes very little time, causing minimal disruption at your home.
Every roof is designed, tested, machined and constructed individually in this bespoke way. You're not buying an off the shelf product that's simply bought and adapted to fit your conservatory, you're buying a roof that is entirely bespoke.
Our installers, plasterers and electricians are highly experienced in the installation of our roofs and work closely with our planners to make sure your experience meets your expectations.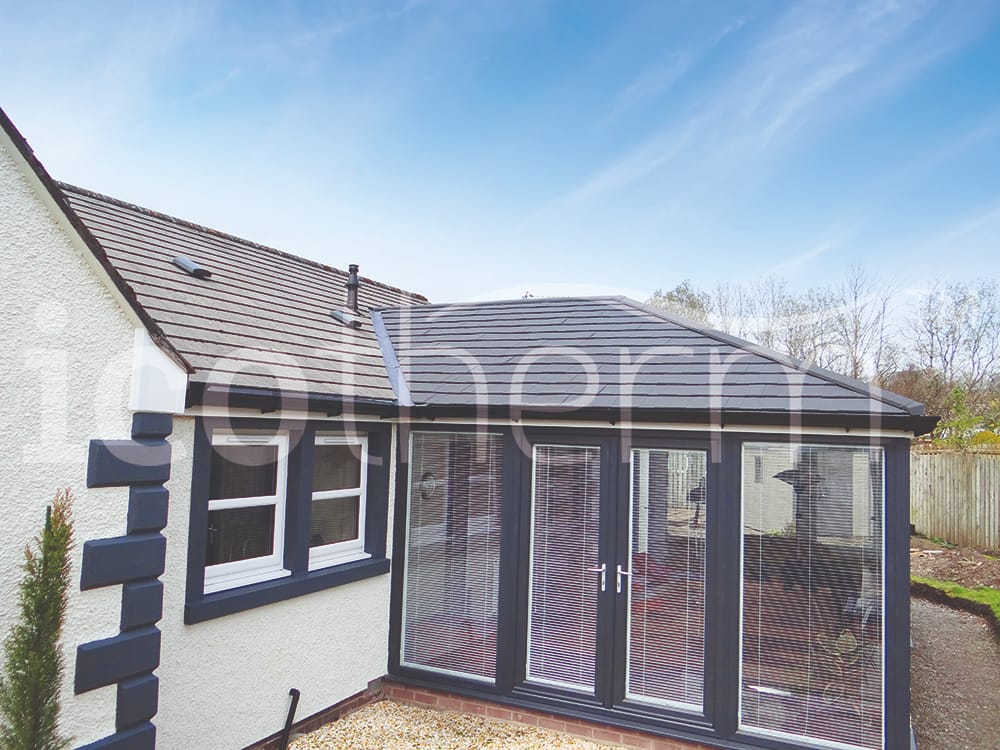 Summary of Tiled Conservatory Roof Benefits

Your conservatory is no longer too hot in summer.
Your conservatory is no longer too cold in winter.
Better security than polycarbonate roofs.
They look aesthetically pleasing with tiles to match your home.
Better integration into your overall living space.
You can change the whole look of your conservatory.
Central heating can be connected to your new room.
Doorways from the main property can be removed for open plan living.
Easy to maintain and no more cleaning green slimy roofs.
Resistant to hail-stone or snow damage compared with glass or polycarbonate..
No more deafening rain, wind noise or rattling panels.
Stronger and safer than traditional conservatory roofs.
Increase the value of your home.
Quickly create a quiet environment for home-working, hobbies or just relaxing.
Cheaper and far less disruptive than an extension project.
Building Regulations Certification is included as standard.
Insurance-Backed Guarantee included as standard.
What Our Customers Say

"Quality products are only as good as the team that fit them and in our case both the product and the fitters resulted in a first class and professional installation. Respectful of our home and tidied up at the end of each day….Thank You"
Les Finucane

"Excellent service from Eco Thermal again. Would recommend to anyone. Also good to have a local firm that you can trust."
Ross Duguid

"Very happy with the whole process and of course the finished installation."
Michael Senior


You can also read our reviews on Which Trusted Trader where we are rated five star.


Why choose Eco Thermal Design for your new tiled conservatory roof?
Eco Thermal Design has transformed countless homes across South Yorkshire with quality windows, doors, bi-folding doors and tiled conservatory roofs. We pride ourselves on the quality of our tradespeople, who are not only talented, but exceptionally friendly and polite. Our Which Trusted Trader reviews are testament to the quality of both our work and our people. We also guarantee our work with an insurance-backed guarantee.
If you're considering replacing your existing conservatory roof with a tiled roof and would like to discuss your options, feel free to get in touch here to speak with an expert member of our team.